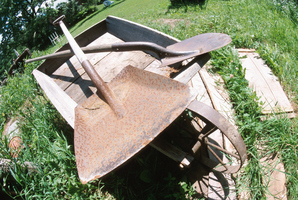 A man has been found guilty of fracturing his partner's skull with intent to cause serious harm when he hit her with a spade during a domestic incident.
Napier resident Andrew Tauira Whatarau, 42, hit his partner in the head with a spade twice in the early hours of April 22 last year in what he claimed was self defence.
The victim suffered a six centimetre wound to the back of her head, a fractured skull and bleeding around the brain.
A jury at the Napier District Court took three-and-a-half hours to reach its decision today.
The Crown argued Whatarau "lost his cool" and attacked his partner with the spade then left her lying in her own blood in his backyard until police, notified by neighbours, arrived.
She was taken to hospital where she later awoke to be told she'd suffered a "severe blow" to the back of her head, she said.
Crown prosecutor Nicola Graham described it as the actions of an "incredibly angry and callous" man.
Whatarau maintained he had acted in self defence after his partner tried to attack him with a tree branch. This was after she had repeatedly punched him when drunk at a party earlier that night and broken several windows at his property, he said.
He also claimed to have made attempts to get her off his property when she turned up in the early hours of the morning in a drunken rage.
For more articles from this region, go to Hawkes Bay Today