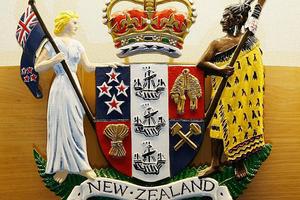 A Tauranga man who posed as his older brother when stopped by police - and then continued the ruse in court - now faces up to seven years behind bars.
Phillip Tuhakaraina, 26, appeared in the Tauranga District Court on September 17, pretending to be his brother, and pleaded guilty to driving with excess breath alcohol.
As a result his older sibling Major Tuhakaraina was convicted of the charge, fined $750 plus court costs and disqualified from driving for six months.
Phillip Tuhakaraina's downfall came when his brother received the Ministry of Justice paperwork relating to the conviction.
The revelation saw Phillip Tuhakaraina back in court last week where he pleaded guilty to attempting to pervert the course of justice - a charge which attracts a maximum penalty of seven years' prison.
The police summary of facts revealed that on the evening of September 4, 2012 the two brothers had been drinking at various clubs and bars in central Tauranga.
Major Tuhakaraina gave his brother his ID which he used to enter nightclubs.
Early the next morning, when Philip Tuhakaraina was stopped while driving on Cameron Rd, Tauranga, he gave police his brother's details and was processed for drink-driving under his brother's name.
A breath test revealed he was driving with an excess breath alcohol of 896 micrograms of alcohol per litre of breath - more than double the adult legal limit of 400mcg.
After receiving a letter from the Ministry of Justice about the matter, Major Tuhakaraina was alerted to the conviction.
When questioned by police Philip Tuhakaraina acknowledged pretending to be his brother and conceded it was a stupid idea.
Phillip Tuhakaraina's lawyer MaryAnn McCarty told Judge Peter Rollo her client would also be pleading guilty to a charge of driving with an excess breath alcohol (3rd or subsequent) when police laid the charge.
Judge Rollo remanded Philip Tuhakaraina on bail pending sentencing.
His bail conditions included being banned from driving a vehicle.
For more articles from this region, go to Bay of Plenty Times