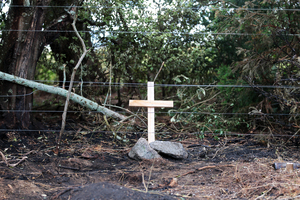 The brother of the man burned to death in South Auckland has appealed for information on his brother's killers.
Shalvin Prasad's body was identified by police after being found in a scrub fire near McRobbie Rd in Kingseat on Thursday morning.
Today would have been his 22nd birthday.
Police believe Prasad was killed by the fire and an accelerant was used.
Shalvin's brother Pravin Prasad released a statement from the family.
"I would like to say a few words about my brother Shalvin. He is the youngest child. Family and friends are the centre of his world. He loves to play soccer and enjoyed his job. He is probably the most innocent and naive 21-year-old you could meet," he said.
The family appealed for information.
"Anyone who has seen his RAV4 please come forward. Any of his friends who saw or spoke to Shalvin in the 48 hours before he went missing please call police, the more information the better," he said.
Shalvin was born in Fiji and worked as a produce assistant at Botany Pak'nSave supermarket.
Detective Inspector Dave Lynch of Counties-Manukau Police said Shalvin had been at soccer practice on Wednesday evening. He returned home but left again about 8.30pm, telling his family he was going to play pool in South Auckland. He sent a text about 9.30pm saying he would be home by 10.30pm. When he did not return by 2am, they called the police.
A member of the public found his body in the scrub fire about 6.30am on Thursday.
His 1994 Toyota RAV4 registration number ZG16744 has not yet been found.
"Based upon what we now know about Shalvin, coupled with the fact his vehicle and some personal possessions are still missing, it is believed that another person or persons are involved in his disappearance and death," Lynch said.
"One thing in particular on that [Wednesday] afternoon is of interest to us but we are not making it public at this time," he said.
There was no indication he had been involved in drugs or had any debts, Lynch said.
Area enquires completed by police have also established that two vehicles left McRobbie Rd at high speed on Thursday morning about 6.30am just prior to the arrival of the first police vehicle.
Both vehicles carried on straight through the intersection into Kingseat Rd travelling in the Pukekohe direction. One vehicle was described as blue/silver in colour and the other was white.
"This is a remote location and both drivers will be well aware that their vehicles will be of interest to the investigation," Lynch said.
"The longer they wait to come forward will increase the level of interest police have in them and we urge them to contact us as soon as possible."