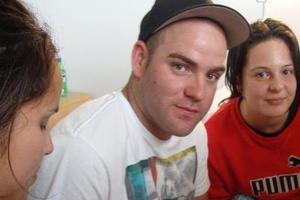 A father was stabbed to death over a minor disagreement, police have said.
Michael Valentine, 27, was knifed repeatedly in the upper body at his home in Clay St, Levin.
Ambulance staff attempted to resuscitate the man but he was declared dead at the scene.
Associates yesterday said three men showed up at his home about 8.30pm, demanding money. The three men, who were known to Valentine, were described as former friends who had grown up with him in Levin. The disagreement was over "minor matters," police said.
They fled the scene but were later arrested by police.
A 31-year-old will appear in court tomorrow charged with murder.
Two other men, aged 29 and 22, have been charged with assault.
Detective Senior Sergeant Marc Hercock said there had been an earlier "altercation" prior to the fatal attack.
"We do not believe that this was a random attack. We understand that there was disagreement in regards to some minor matters between the victim and those arrested."
A friend of Valentine's, who asked not to be named, said: "They stabbed him, then kicked him while he was down. They then just took off."
Valentine, a farm worker, lived at the rural address 7km north of Levin with his flatmate Jake Barnett, and his fiance, who he got engaged to in November. Valentine also had a young son, Luka.
His fiance, known by the nickname of Chook, posted a message on a Facebook tribute page: "I miss u bbe i wl never stop missing u xx."
Dozens of friends also paid their respects to Valentine, who was described as having a "heart of gold".
John McGregor, said: "A great man taken down in his prime, a fun loving man who always stood for the underdog, would have given the shirt off his back.
"Mike, it has been an absolute pleasure knowing you. May you forever rest in peace, our thoughts and sorrows, condolences and heartfelt love to your surviving family and your many loving friends and relatives."
The former Waiopehu College student had been hailed a hero for pushing a friend, Nicole McGill, out of the path of a drink-driver in an accident about seven years ago.
A friend said Valentine was credited with saving the woman's life after the crash in which he was injured outside O'Malley's Bar in Levin.
"He was in a coma and it wasn't clear whether he would survive," said the friend.
Police were last night appealing for sightings of a white Mitsubishi Pajero 4WD, registration CTJ418, between 6pm to midnight yesterday.
A post-mortem examination will be carried out today.