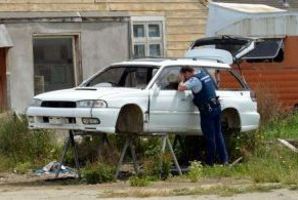 A trio behind an alleged "chop shop" near Mosgiel allegedly used social media to taunt the owner of a dismantled stolen vehicle, police say.
An early morning search of a Dunedin flat yesterday led to the arrest of three people over the thefts of high performance cars from Dunedin and Timaru this month.
A 27-year-old woman and two 22-year-old men were charged with the theft of six vehicles, with more charges likely, Sergeant Chris McLellan said.
The arrests follow Tuesday's raid of a property near Mosgiel allegedly used as a "chop shop" - for the dismantling of cars for the illegal sale of parts - and where the remains of six performance vehicles and two flatbed trucks were uncovered.
More car parts were uncovered around the basement flat of a Kaikorai Valley Rd address, and it was possible dozens of vehicles had been targeted by the group over the last month, he said.
"They have been highly active, and this has been a nightly occurrence over the last three weeks."
Police said the trio, who were linked to a variety of addresses and had "loose" gang connections, had allegedly targeted vehicles in Dunedin and Timaru.
The group were allegedly behind the theft of a Dunedin vehicle on Monday, before dumping it in Timaru and returning to southern city in another stolen vehicle.
The owner of a stolen vehicle had been contacted via social media and taunted with a photo of his stripped down Nissan Skyline, he said.
The cars were allegedly stripped and sold for parts, but it was too early to comment on how the items were sold, he said.
Police were working to identify the parts of other stolen vehicles and track down affected owners, as identification numbers had been removed.
A flatbed Nissan Atlas truck belonging to Brent Lucas Builders Ltd was stolen earlier this month, had its motor removed and cut down into parts.
The theft of the truck which was insured for $7000 but could cost up to $22,000 to replace, had impacted on his business, and "we are going to fork out a lot of money," business owner Brent Lucas said.
The trio were expected to appear in Dunedin District Court today.