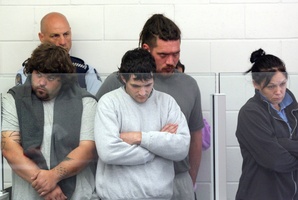 The fifth person charged in connection with the fatal beating of Featherston man Glen Jones has lost name suppression today.
Tariana Jones, a 32-year-old mother from Solway, Masterton is the last of five people charged in connection with the death of the Featherston supermarket worker to be identified.
Mr Jones was attacked in his house just after midnight on January 12 and died in Wellington Hospital hours later.
All five defendants have been charged with aggravated burglary but it is likely that some or all of the accused could face further charges by the time they reappear in Masterton District Court on February 7.
They are jointly charges with entering Mr Jones' home armed with a wooden bat and an axe handle intending to commit a crime.
During a January 14 hearing, Judge Bruce Davidson considered Jones' reasons for continuation of name suppression but decided it would lapse today[25/01]. The name suppression prohibited any media outlets from identifying her.
The other defendants are Matthew McKinney, 28, Toni Miller, 22, Hayden Ranson, 27, and Kristofer Jones, 23. Ranson and Kristofer Jones were arrested days after the attack. Jones was captured near Hunterville while Ranson gave himself up to police in Upper Hutt.
Miller and Tariana Jones are currently on bail. Kristofer Jones, Ranson and McKinney remain in custody.
For more articles from this region, go to Wairarapa Times-Age