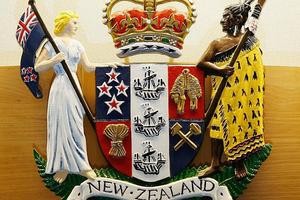 A pensioner ended up in court after punching his 70-year-old wife following a row over dinner.
Neil Ernest Goad, 72, of Featherston, was convicted yesterday in Masterton District Court of assault.
Senior sergeant Garry Wilson said the argument last November resulted in Goad shouting at his wife and calling her names.
He then punched her three times on her left shoulder with a clenched fist, causing bruising and discomfort.
Asked by police to explain his actions, Goad said he punched his wife "because she was driving him up the wall".
Goad maintained he hit her only once.
Defence lawyer Peter Stevens told Judge Tony Walsh his client had medical issues. He had an operation on his lung recently and had suffered from diabetes for a number of years.
"He spends most of his time in the La-Z-Boy [chair] or in his wheelchair," Mr Stevens said, adding that the couple were no longer living together.
He described the appearance of Goad, who had never been before the courts, as a "sad occasion".
Judge Walsh said it was clear from the victim impact statement that Goad's wife was frightened of the defendant.
He described the violence used by the accused to intimidate her as unacceptable.
"The court must give a clear indication to the community that this type of behaviour will not be tolerated," Judge Walsh said.
He ordered Goad to pay court costs of $132.89 and deferred sentencing for 12 months.
For more articles from this region, go to Wairarapa Times-Age