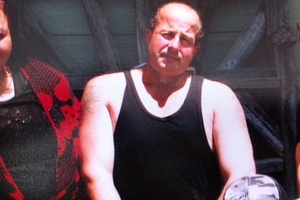 More than 700 mourners overflowed the Anzac Hall in Featherston today to farewell Glen Jones who died after a vicious beating in his own home.
The supermarket worker, 40, was attacked in his home soon after midnight last Friday and hours later died in Wellington Hospital of head injuries he received in the attack.
Five people appeared in Masterton District Court today on charges of aggravated burglary related to the fatal beating.
At the funeral Mr Jones' older brother Brent Jones tearfully recounted memories of Glen, known as Jonesey, and how he had been a born battler who had survived a brain tumour at just two-years-old, despite a diagnosis that he would die before he was five.
However, Mr Jones said "unfortunately late last Friday night, evil came to visit...and he lost his fight''.
"He was a man with a heart of gold and only a little bit of mischief in his eye.
"We've all learnt that life with Glen around is how life should be,'' he said.
Celebrant Pam Bailey said Mr Jones' tragic death had united the community in sorrow and that the death of someone at his age "shocks us''.
"This is a travesty that should have never happened to someone so special, someone so young,'' Ms Bailey said.
For more articles from this region, go to Wairarapa Times-Age