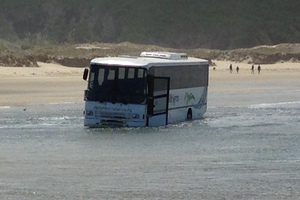 Thieves stole dozens of boogie boards from a tour bus that got bogged down in sand on Ninety Mile Beach at the weekend.
The bus was operating a tour run by the Fullers GreatSights company and got into trouble while driving along the beach shortly before 11am on Sunday.
Fullers GreatSights Bay of Islands general manager Charles Parker said yesterday the tourists had been transferred to other buses.
It was while the driver of the stranded bus had been away from it, waiting for help to arrive, that it had been targeted.
The bus had not been returned to the Bay of Islands base yet and the damage was being assessed by a contractor in the Far North.
Mr Parker said he was unsure of the total damage and had not yet done an inventory of stolen items.
However, he was aware that at least 31 boogie boards and a first-aid kit had been taken.
"None of the tourists were at risk - they had already gone. The driver left the bus while waiting for the excavators to arrive and that's when it occurred," Mr Parker said.
Until he had received a report on the damage and stolen property the incident would not be referred to police.
For more articles from this region, go to Northern Advocate