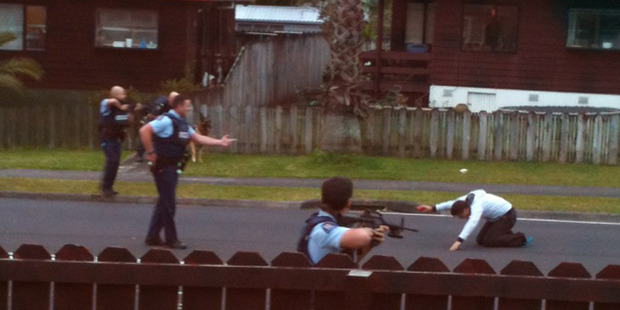 An image of police aiming guns at a man in a suburban Auckland street during a dramatic arrest has gone viral after a member of the public caught the action on camera.
Armed police were called to Caribbean Dr in Unsworth Heights on the North Shore at 5.30pm on Wednesday after receiving reports that a man was firing shots in the area.
Acting Inspector Jill Rogers said a 25-year-old man was arrested. He has been charged with discharging a firearm and will appear in the North Shore District Court on December 4.
During the arrest, a photo was taken showing at least two officers aiming Bushmaster rifles at the alleged offender, who was on his knees in the middle of the street.
Hours later the photograph was posted on social news website Reddit, which is viewed and used by millions of people across the world each day.
Police could not comment further as the matter was before the courts. However, it is normal procedure for armed police to be dispatched to callouts where firearms have been reportedly presented or discharged.