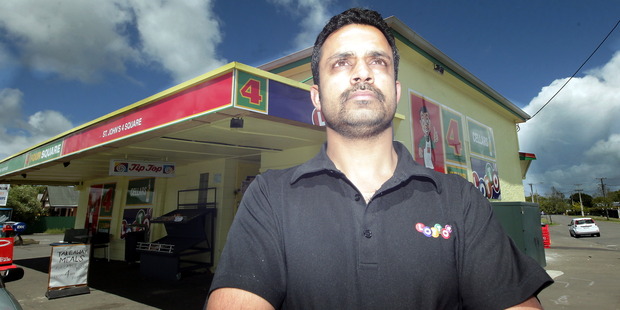 A supermarket manager had a firearm thrust into his stomach during a brazen armed hold-up of his Wanganui store on Saturday night.
Vinod Meghwal, 33, was serving his last customers for the day at the St Johns Four Square Supermarket just before 7.30pm when an armed man ran into the store demanding money.
"He had a long-barrelled weapon, pointed it at me and told me to empty the till," a shaken Mr Meghwal said yesterday.
There were three female customers in the store and they dropped to the ground and lay on the floor when the robber burst in.
"It was exactly 7.24pm. I'll never forget that," Mr Meghwal said.
He opened the till and started to hand the money over when the robber moved behind the counter next to him. That's when he thrust the weapon into Mr Meghwal's stomach.
"His face was covered with some sort of cloth, but really all I could look at was the barrel of that gun pushing into my stomach."
"I started to take money out of the till but then he just grabbed what he could himself and took off."
"I rang 111 as soon as the man left and the police were here before I'd finished the call," he said.
He was thankful no one was hurt and said the customers were shaken but otherwise fine. Mr Meghwal would not say how much the robber had made off with but said it was a "significant amount".
"He took our takings for the entire day and we'd been very busy yesterday," he said.
Police said the offender got into a car waiting nearby after the robbery.
The store's owner, Bhim Chouhan, is overseas. He has owned by the store for nine years and this was the sixth time it has been targeted.
For more articles from this region, go to Wanganui Chronicle