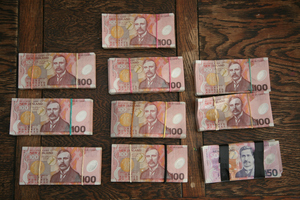 A major methamphetamine drug bust has uncovered a rusty army ammunition tin crammed full of $100,000 in cash in a Far North paddock.
Police said they made the discovery during a two-day operation that culminated in Northland and Auckland yesterday.
Nine people, including three from Northland, were arrested as part of Operation Enzone run by the Organised Financial Crime Agency of New Zealand (OFCANZ).
Police teams found a total of $154,000 cash and $300,000 worth of methamphetamine as a result of a three-month-long investigation.
Twelve searches were carried out in Auckland, Whangarei, two in Herekino, 26km from Kaitaia and one in Pukepoto, 6km from Kaitaia, on Tuesday and Wednesday.
The ammunition tin was found in a paddock about 100m from a Herekino house hidden in thick undergrowth.
Officer in charge of the operation Detective Sergeant John Sowter said two other people, with links to Northland, were being sought.
Three properties worth about $2 million - including two at Herekino - have been seized under the Criminal Proceeds Recovery Act. Vehicles including quad bikes, diggers and tractors, as well as farm equipment, were also seized.
Mr Sowter said the group was alleged to have been manufacturing methamphetamine and supplying the upper North Island, Auckland, Napier and as far south as Wellington.
A considerable amount of chemicals used to make methamphetamine had also been collected and some would need testing.
The impact of the operation on the drug trade was hard to measure.
"It is a good result and the culmination of some hard work by OFCANZ and police investigators," Mr Sowter said. "It's always pleasing to get these drugs out of circulation."
Colin McKendrick, 59, and Betty Anne Lloyd, 53, appeared in the Kaitaia District Court yesterday and have been given bail to appear again on December 4.
The pair face charges including four of allowing premises to be used for manufacturing methamphetamine, two of money laundering and participating in an organised criminal group.
Frank William Murray, 45, faces 13 charges of manufacturing and supplying methamphetamine, three of possessing material for manufacturing methamphetamine, two of money laundering, possessing equipment for manufacturing methamphetamine, conspiring to supply methamphetamine and participating in a criminal group.
Murray was remanded in custody, to reappear on November 21.
For more articles from this region, go to Northern Advocate