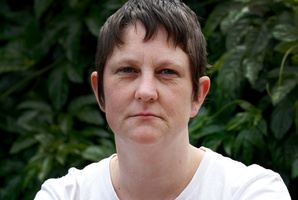 A dangerous prisoner who killed a guard has allegedly attacked another jailer in similar circumstances.
Latu Kepu fatally punched Jason Palmer in May 2010 at Springhill Prison in the Waikato.
Mr Palmer was opening Kepu's cell door when he was attacked. He fell backwards and hit his head on concrete paving.
Four months later, Kepu was convicted of Mr Palmer's manslaughter and was sentenced to six years and four months in jail.
The Herald can reveal that Kepu allegedly assaulted an officer in Auckland Prison at Paremoremo on October 31.
Acting prison manager Tony Sherlock confirmed that an incident had been referred to the North Shore police for investigation. The prison officer was taken to hospital for assessment but had no major injuries.
Mr Palmer's widow, Tracy, was devastated when told about the alleged assault.
"I was pretty blind-sided, really, but I wasn't surprised. It's just the kind of person he is," she told the Herald.
"From what I have been told, it happened in exactly the same way it happened with Jason.
"It's crazy. You'd think they would be more wary of this guy - they know how it happened and where it happened with Jason, and yet he's done it again. I really am blown away.
"It brought it all back, absolutely. To think that another officer's family could have been going through the exact same thing that we went through two and a half years ago is mind-blowing."
When Mr Palmer was killed, Kepu, a member of the Killer Beez gang, was serving a sentence for several assaults, including kicking a police officer repeatedly in the head and attacking a pregnant woman.
He had earlier threatened to harm Mr Palmer, telling another prison officer: "When I get out of here, I'm going to punch him over."
That officer did not record the threats on Kepu's file or report him. Mr Palmer died soon after.
Mr Sherlock said that all physical assaults in prisons were referred to the police, to ensure suitable charges were pressed internally, or externally through the courts.
A decision is yet to be made on Kepu's latest alleged offence.
"Corrections takes the issue of violence in prisons extremely seriously and our priority is staff safety. The department will not tolerate prisoners using violence against staff or other prisoners," Mr Sherlock said.
"Corrections officers work in a tough environment and our staff carry out their work in the knowledge that assaults may happen.
"While one assault is one too many, prisoners are volatile and unpredictable ... and resort to violence with little warning. Despite the efforts we make to ensure risks are mitigated, there will be some occasions where assaults occur and on occasion, staff sustain injuries.
"Despite our sincerest intentions, we cannot prevent all assaults and no jurisdiction in the world has achieved this," Mr Sherlock said.
Any incidents in prison involving Kepu, or charges laid against him - internally or externally - would be added to his prison record.
"That record will be provided to the Parole Board, which will consider his release for the first time in December 2013."
Mrs Palmer wants harsher penalties brought in for inmates who commit violent crime in prison.
She said anyone who assaulted a prison officer should be treated the same as they would if they assaulted a policeman on the street.
"It is exactly the same thing. I would like to see all assaults on prison officers put through the courts, so the offender is charged and punished. I would like to see them get more time added to their sentence because of it too."
Mrs Palmer was angry Kepu had not changed his ways after killing her husband.
"He just doesn't seem to care about what he does," she said.
"There was no remorse, no feelings about what he did to Jason. I sat there in court and I looked at him and he did not care.
"I don't even have the words, to be honest, I just don't. It certainly is not justice, that's for sure."
At Kepu's sentencing in 2010, Justice Paul Heath said it was important to deter inmates from assaulting prison officers.
Read more: Inside city's secure mental health unit