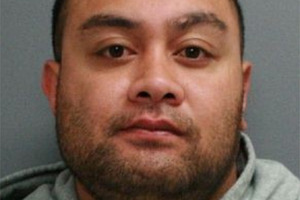 Murray Toleafoa. Photo / Supplied
The man who shot at a police officer before sparking a manhunt has pleaded guilty.
Murray Toleafoa, 30, was arrested after armed police swooped on a central Auckland supermarket carpark in June.
He appeared in the High Court at Auckland today and pleaded guilty to a charge of using a gun against a police officer.
His lawyer Ron Mansfield told the court that he understood the Crown would not offer any evidence relating to a second charge of attempted murder.
Toleafoa fired at a constable after being stopped with his girlfriend Nadia Ball, 20.
The 40-year-old police officer - who has been working for police for nine years - was not hit.
However, the bullet passed so close it caused burns to the skin on his forearm.
At the time of the manhunt police described Toleafoa as dangerous and said he should not be approached.
He was remanded in custody for sentencing in November.
Toleafoa's girlfriend has also been arrested. Police allege Ball was hiding in the back seat of a car that came to police attention as it pulled out of a south Auckland service station.
She has appeared in court, charged with possession of a pistol.
- APNZ