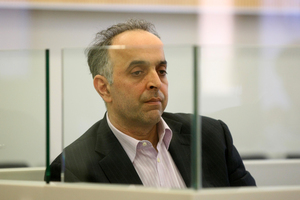 Loizos Michaels denies 31 charges relating to $3 million worth of alleged deception. Picture / Chris Gorman
A casino executive was so "enthralled" by alleged conman Loizos Michaels that he ignored warnings from his best friend, National Party president Peter Goodfellow, a court has heard.
Stephen Lyttelton today told Auckland District Court that Mr Goodfellow lent him $114,000 to plough into a Macau-based casino company that Michaels claimed to represent.
The three men had lunched together at celebrity hangout Soul Bar in Auckland's Viaduct Harbour before Mr Goodfellow became suspicious and warned Mr Lyttelton that he could be the victim of a scam.
Mr Goodfellow's concerns culminated in an "acrimonious" exchange but Mr Lyttelton still refused to believe Michaels could not be trusted.
Michaels has denied 31 Serious Fraud Charges relating to $3 million worth of alleged deception.
During his second day of evidence at the Auckland District Court, Mr Lyttelton said Mr Goodfellow was among friends who became suspicious after he handed Michaels hundreds of thousands of dollars for several business ventures, many related to gambling businesses and property ventures.
"I was so enthralled with the whole situation with Michael that I wanted to share it with Peter."
Mr Lyttelton said after he borrowed $114,000 in two loans from Mr Goodfellow, Michaels urged him to ask for more.
"I felt sick in my stomach that Michaels insisted that I had to go back and approach him for a third time," Mr Lyttelton said.
Instead of agreeing to a further loan, Mr Goodfellow called Mr Lyttelton to his office in central Auckland.
"He said he wasn't going to provide any more money to me and moved on to suggest that I was a victim of a scam."
Mr Lyttelton said there was an "acrimonious discussion" and he couldn't believe what Mr Goodfellow told him.
"It ended with Peter saying, 'well, I'm not going to leave you locked here in the boardroom and call the police'. He said: 'You're free to go'."
Mr Lyttelton said after being told about the exchange, Michaels demanded he cut ties with Mr Goodfellow.
Later, he said his friends were so worried they hired a private investigator to look into Michaels' business dealings.
"I told [Michaels] my family and friends advised me to go to the Serious Fraud Office about his actions ... He just laughed down the phone and said 'go for it' or words to that effect."
Under cross-examination from Michaels' lawyer Peter Kaye, Mr Lyttelton confirmed he had degrees in law and commerce from the University of Auckland.
Mr Kaye then asked about Mr Lyttelton's time at the Christchurch Casino and how he had been "rejected" for the chief executive role despite holding it in an acting capacity for two years.
"I was devastated."
He confirmed that after 30 years in the corporate world, he was looking for a change when he met Michaels.
Mr Lyttelton agreed with Mr Kaye he had been "a little reckless" in handing over money without getting a receipt from Michaels.
But he also said he saw Michaels' planned online casino company Aphrodite as a "genuine opportunity".
The trial, before Judge Christopher Field, is in its second week and due to finish at the end of next month.
- APNZ