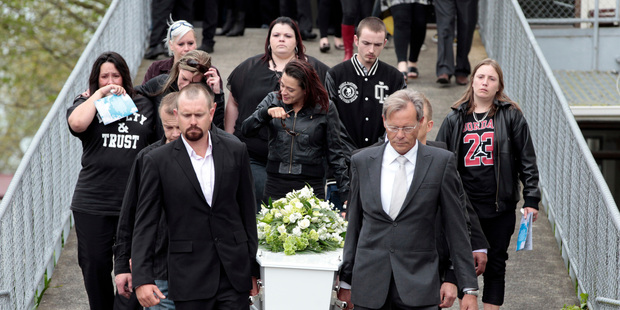 Family and friends pay tribute to murder victim Rae Portman. Carrying the casket are her brother Ben Portman (left) and her father Alistair Portman. Photo / Herald on Sunday / Michael Craig
About 100 people gathered at the Te Aroha Race Course today to farewell Rae Portman, whose body was found on a farm last week.
Her father Alistair and two brothers Ben and Joel acted as pall bearers and her white coffin was surrounded by flowers and a large teddy bear for her unborn baby boy Brooke.
The funeral service included a eulogy from Rae's brother Ben.
He spoke about the fun times they'd shared and how Rae, 33, had made many friends.
''She touched a lot of people's hearts. She was a person who believed in giving people a second chance and she was always helping people. She would take the shirt off her back to give to people. She was really a big blessing for me as a big sister. Everything she did she gave it her all,'' he said.
He said the last four months since she went missing had been ''a long haul'' and thanked police for their help in bringing her home.
Rae's father Alistair described his daughter as a ''sunbeam'' who could instantly put people in a good mood.
''She was an extremely strong person. The web of her friends has amazed me but that is down to her bubbly personality,'' he said.
Her friend Allegra said Rae was an amazing person.
''She was always there when you needed her. She may have been a few days late but she would get there,'' she laughed.
''It has been hard just the sadness, anger and happiness as we remember the huge fun times we had with her. She was a beautiful person and will be missed by a lot of people,'' she said.
A Hamilton man has been charged with kidnapping in relation to her death and will reappear in court this month. He has interim name suppression.
- Herald on Sunday.