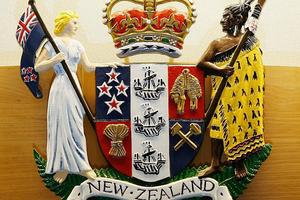 The comedian has not been serving home detention while the matter is back before the court. Photo / File
A sentence of home detention handed down to a comedian for indecently assaulting his 4-year-old daughter was excessive because it would cost him his career, his lawyer has told a court.
The comedian, whose name is suppressed to protect the identity of his daughter, is appealing against the eight months' home detention he received in Auckland District Court in July following a judicial review.
Outrage followed his discharge when he was sentenced in September last year, prompting the High Court review.
Sentencing Judge Mark Perkins said in July that the revised sentence would reflect the man's "culpability and criminality".
The man had arrived home drunk from a work Christmas party and fell asleep with his partner in their bed. His daughter later got into bed with them.
He pulled down her underwear and nappy and then kissed her body several times. When his partner woke, he said he thought it was her he had kissed.
Yesterday the man's lawyer, Marie Dyhrberg, told the Appeal Court his sentence was out of proportion because it would cost his career.
The offence was fleeting, there was no sexual connection and the offence was not premeditated.
There was no chance of the man reoffending.
"The judge erred in disregarding these factors," Ms Dyhrberg said.
She also said Judge Perkins' starting point for punishment was set too high, so once he came to do the "balancing exercise, he's out of kilter".
"The judge ought to have found that a discharge without conviction was appropriate." She said community work could be more appropriate.
But Crown prosecutor Lisa Preston said Judge Perkins did not err in assessing the man's offending as grave.
She said aggravating factors were that the little girl was his daughter and she was very young.
"There was also removal of two layers of clothes (from the girl)."
The man had also taken off his boxer shorts, Ms Preston said.
She said there was no certainty that his career would be over if he was convicted and sentenced.
She compared his case with television broadcaster and radio announcer Tony Veitch. In 2009 he pleaded guilty to assaulting his partner but was later re-employed in the media.
There was a difference in this case, in that the man had been granted permanent name suppression and his name would not be linked with a crime in the future.
The Court of Appeal's decision reserved. The comedian has not been serving home detention while the matter is back before the court.
- APNZ