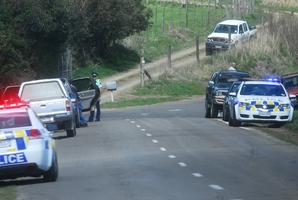 A motorcyclist believed to be from Taneatua was found dead in a ditch beside Awahau Rd. Photo / Lani Hepi
A fatal crash near Ruatoki, a home invasion in Kawerau and an abduction and assault in Opotiki rocked the Eastern Bay of Plenty at the weekend.
The incidents all happened on Sunday between 5am and 10.30am.
The Daily Post understands a Taneatua man, believed to be in his 30s, who had been riding a motorcycle was found dead in a ditch by an off-duty fire service officer about 10.15am yesterday.
The accident happened on Awahou Rd, about 3km south of Taneatua.
The Tauranga Police Serious Crash Unit was called to the incident but Whakatane police investigating the crash could not be contacted to confirm details.
A team from the serious crash unit was at the scene yesterday.
Red cones were placed along the road and some members of the public, believed to be family members of the dead man, were surrounding the body.
Cars had been parked around the body to prevent members of the public seeing the scene.
Meanwhile, Detective Senior Sergeant Greg Standen of the Kawerau police said that at 5.18am yesterday, police were called to a home invasion, burglary and alleged sexual assault of a 32-year-old Kawerau woman.
A man allegedly broke into the woman's home and sexually assaulting her while she was asleep in her bedroom, as other members of the household slept in a nearby room.
The woman forced the man off during a short struggle before he escaped.
Police completed a scene examination and an investigation is now under way.
The victim described her attacker as Maori, possibly in his 30s.
Earlier on Sunday, about 5am, Opotiki police were called after reports of the assault and abduction of a 17-year-old local woman who appeared to have been involved in an altercation with three other women who then pulled her into their vehicle and drove off.
Mr Standen said the teenager was set upon and suffered injuries to her face and body which required medical treatment.
The attackers allegedly drove the victim to a location outside the township and left her on the side of the road.
Staff from Opotiki and Whakatane police have found the three women, who were being spoken to by investigators.
Mr Standen said police were asking people who may have seen or heard anything regarding the alleged abduction or home invasion to contact Kawerau or Opotiki police on (07) 323 1400, (07) 315 1110, or anonymously on (0800) 555 111.
for more articles from this region, go to ROTORUA DAILY POST