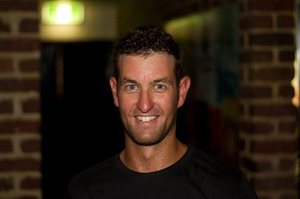 Andy Marshall was fatally hurt when he was thrown through the window of a West Australian bar. Photo / NZ Herald
The sentencing of a former bouncer found guilty of murdering a New Zealand musician by pushing him through a second-storey pub window has been deferred until Monday.
A West Australian Supreme Court jury delivered a guilty verdict against Stefan Pahia Schmidt, 26, on June 20 after an eight-day trial.
Schmidt admits pushing Any Marshall - the cousin of slain Feilding farmer Scott Guy - through the window of a Perth pub in May 2011.
But the trained boxer and kickboxer with links to Perth's outlaw Rock Machine motorcycle gang had pleaded not guilty, saying the death was an accident because he only meant to push the 29-year-old out of the way as he tried to tell two girls he knew to "go home".
Crown prosecutor Amanda Forrester told the court today that a life sentence was entirely justified, and there needed to be strong deterrents to acts of random violence in licensed venues.
Schmidt's defence, led by high profile Perth QC Tom Percy, sought a sentence of less than life.
Justice Ralph Simmonds deferred Schmidt's sentencing until Monday while he considered matters including an unrelated 2010 case where a sentence of less than life was sought for murder.
That application was unsuccessful.
Mr Marshall's father Alan flew to Perth for both the trial and sentencing, and today read out in court a victim impact statement in which he spoke of the devastation of losing his son.
His wife, Wendy, and daughter and son also delivered victim impact statements via videolink from New Zealand.
Outside the court, Mr Marshall said he would accept whatever sentence was handed down.
-AAP