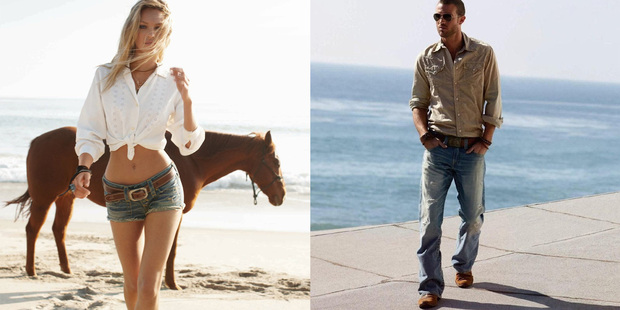 Genuine True Religion jeans are a high-end product and the fakes damaged their image, says a lawyer acting for the firm that owns the brand. Photo / Supplied
Two Auckland apparel distributors must each pay $20,000 and serve community detention sentences in what is believed to be New Zealand's first criminal prosecution for clothing counterfeiting.
Dean Leo Gibbs and Dawn Mary Lomas pleaded guilty to a forgery charge after hundreds of pairs of fake True Religion jeans were sold in temporary stores in Ponsonby, Milford, Takapuna, the Auckland CDB and through a daily-deal website.
The pair were sentenced in the North Shore District Court yesterday to three months' community detention under a night-time curfew as well as 300 hours' community work.
They were also ordered to pay $20,000 each in reparations.
Guru Denim, which owns the True Religion brand, began investigating the counterfeiting operation last year.
Simpson Grierson partner Earl Gray, who acted for Guru Denim, believed the case was the first major criminal prosecution for counterfeit clothing in New Zealand.
Guru Denim was concerned the poor quality of the fake jeans could harm True Religion's reputation, he said.
"They're very much high-end in fashion and that's why the product they [the offenders] were selling, although they weren't selling them really cheaply, really damages the image of the brand," Gray said.
"It's very hard to estimate [damages] because the offenders never let us know how many jeans they sold," he said. "It was potentially over $100,000 or $200,000 in terms of the lost profit and damage to goodwill from this sort of activity."
The real jeans sell for up to US$430.