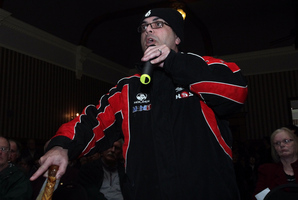 John Sturmey speaks at public meeting. Photo / Stuart Munro
A convicted sex offender's house has been firebombed in Turangi - prompting new concern about what will happen in Wanganui if Stewart Murray Wilson is released there as planned.
A Taupo District councillor says the damage done to the home of the paroled prisoner, whom the Parole Board advised the Herald on Sunday it could not name, was related to the hysteria over the Wilson case.
"They have been upset," Tongariro-Turangi councillor Gary Keepa said. "People conjure up all the ideas of what might happen."
No one was home when the firebomb was thrown into the Paekiri Rd house about 6am on Friday and the man, who it was reported had spent eight years in prison for attacks on 28 victims, has been moved out of the town by his employer. He has been working for a logging company.
Police are investigating, but Keepa's counterparts in Wanganui are already fearing what might happen if Wilson, jailed in 1996 for 21 years for serious sexual offending, is released there.
Wanganui councillor Jack Bullock said many people were talking about taking action. "You only have to look on Facebook or talk to people in the community to see what is happening."
Leonard Raaymakers has commented on an anti-Wilson Facebook page: "He will be either lynched or castrated in no time."
Bullock said the Department of Corrections was putting Wilson's life at risk.
"Of course we don't want people to take the law into their own hands but the truth of the matter is we can't stop people going to do these sorts of things.
"We are not advocating for that action to be taken but in reality something like that is going to happen."
Wanganui mayor Annette Main said she hoped a High Court judicial review filed by the council would succeed in preventing Wilson from being placed in Wanganui.
The council will know the result of the review by Tuesday.
- APNZ