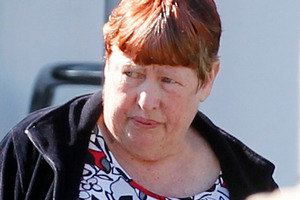 Anita O'Connor. Photo / Christine Cornege
A Ngaruawahia woman failed in her bid for image suppression when she appeared on 163 fraud-related charges.
Inland Revenue Department employee Anita Gail O'Connor is yet to enter a plea to the dozens of charges that include forgery, obtaining information on members of the public to get Working for Families tax credits and a number in which she allegedly created fake passports and birth certificates
Her lawyer, Gerard Walsh, yesterday unsuccessfully sought to block a Herald application to take her picture at her appearance at the Hamilton District Court, arguing that the publication of her image could lead to her facing threats and jeopardise a fair hearing at a likely trial.
Community magistrate Sue Hovell remanded O'Connor on bail and she is to reappear on October 16. The 59-year-old left the court accompanied by a woman, understood to be her daughter.
O'Connor's alleged crimes span the period from 2005 to 2009.
She is accused of taking passports from Victoria, New Zealand and Western Australia for pecuniary advantage, but said she had never seen a passport except her own.
She is also accused of corruptly using information obtained in her official capacity to obtain a child support refund and Working for Families tax credits and making false documents to obtain child support refunds.
She is also charged with creating fake IRD number applications with intention to use them to obtain pecuniary advantage and using the IRD's computer system to get information to get child support refunds and Working for Families tax credits.