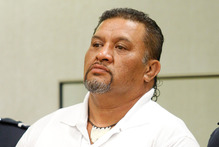 A former prison guard who took a prominent anti-drugs stance, was a good husband and father, and helped police on youth issues - has been jailed for smuggling methamphetamine to inmates.
Kokiri Kihirini Ronaki began a 2-year prison sentence yesterday after earlier pleading guilty at the Hamilton District Court to charges of possession of methamphetamine for supply, possession of cannabis for sale and possession of a glass pipe.
His former Corrections colleagues found him with enough methamphetamine or P to make 13 point bags and the equivalent of four "tinnies" that he was carrying for inmates when he turned up for work at Waikeria Prison on July 13 last year.
A police search of his Te Awamutu flat later that day found 2.3g of cannabis and two bags of methamphetamine, each containing 0.6g and 0.9g packaged ready for supply.
Crown prosecutor Rebecca Guthrie said the 43-year-old's actions were a gross breach of trust that undermined the integrity of the justice system.
"The community places trust in corrections officers to ensure those incarcerated are prevented from committing further crimes. The actions of the prisoner are a very significant and major breach of trust."
Ronaki's lawyer, Paul Mabey, QC, said his actions were an enigma and out of character for a man who was a good father, husband and was involved with sports groups in his hometown of Te Puke.
He was also opposed to drugs and had collaborated with police on youth issues.
"He has gone from the top of the mana tree to the bottom," said Mr Mabey. "The fall from grace within the Maori community for this man is probably harder than it would be for many."
Judge Glen Marshall said he could place only a "limited amount of allowance" on a submission from Mr Mabey that Ronaki had received threats from gang members, forcing him into his predicament.
"There were other avenues you could have taken, such as discussion with your superiors or the police, but you chose not to and that has led to you being in this position."
He said a deterrent message needed to be sent for this type of offending, which had cast suspicion on Ronaki's colleagues.
Figures obtained by the Herald under the Official Information Act show contraband offences among Corrections staff are rare.
The department's general manager of organisational development, Vincent Arbuckle, said 12 officers had been involved in criminal activity resulting in convictions between January 1, 2009 and June 30 this year.
That amounted to 0.30 per cent of nearly 4000 corrections officers, senior and principal corrections officers, employed at that time.
Of those, six were prosecuted for contraband offences. Others were prosecuted for corruption, assault, indecent assault and making a false complaint to police.
"It is a sad fact that any large organisation will experience a few who let the side down," said Mr Arbuckle.
The department said it had recently implemented measures to strengthen integrity.
They included pre-employment checks, conflict of interest questionnaires, drug-testing for all applicants and credit checking for roles with significant financial risk.
By James Ihaka

Email

James