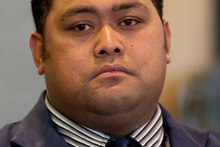 Kefu Ikamanu is accused of stomping on his two-year-old daughter and shattering her pelvis, injuries which a medical expert has compared to being run over by a car.
The Crown says Ikamanu grabbed his daughter by the arm and violently pulled her towards him, breaking her shoulder. He then threw her at a wall, causing brain injuries, before stomping on her.
Seini died in December 2010, eight months after being admitted to Auckland's Starship Hospital.
Ikamanu is on trial at the High Court at Auckland where he has pleaded not guilty to murder, injuring with disregard and causing grievous bodily harm.
Paediatrician Dr Patrick Kelly told the jurors today that the "classic scenario" for the type of fractures found in Seini's pelvis were seen in toddlers run over by a car.
Crown prosecutor Phil Hamlin asked him how he believed the injuries were caused.
"By far the most likely mechanism is someone has stomped on her pelvis with her lying on her back."
The clinical director of Auckland's child abuse investigation team said Seini would have been in agony if she had been conscious.
Dr Kelly said the child would have been bed-bound for weeks and would not be able to put pressure on it.
He said Seini must have had her pelvis shattered on the day she was admitted to hospital because she was seen running around and playing earlier that day.
The court has previously been told that Seini's aunt had fallen on Seini during a game of basketball three months before.
Under cross-examination from Ikamanu's lawyer Bill Lawson, Dr Kelly was asked about an explanation for the pelvis injury from Ikamanu's wife Sela.
Mr Lawson said Mrs Ikamanu had said she was told by her husband that Seini had been "trapped against the bath" while she was having a seizure.
Dr Kelly said it was "conceivably possible" but it did not explain bruising on her back.
Earlier, he gave evidence about Seini's brain injury.
The court has previously heard that Ikamanu initially told a detective that he had thrown Seini against a wall. But later, Ikamanu said he had grabbed Seini by the hand before they both let go at the same time and Seini's head banged into the wall.
Dr Kelly said Ikamanu's initial explanation was more likely to have caused Seini's head injuries.
He said Ikamanu's second explanation would not have had enough force.
The trial is due to finish next week.
- APNZ
By Edward Gay @edwardgay

Email

Edward