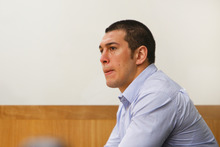 A jury has retired to decide the fate of All Black and Blues' star Rene Ranger, on trial this week for a 2009 assault in Whangarei.
Ranger, 25, was charged with injuring chef Jason Dick with intent to injure.
The Crown alleges Ranger punched and or stomped Mr Dick's head outside the Mangawhai Tavern. Ranger has denied the assault and the court heard he was defending himself from a sudden and unwanted tackle attempt by Mr Dick.
Judge Duncan Harvey gave the jury of five women and six men very specific instructions as he summed up both the Crown and defence cases this morning.
He said they must remember the incident happened a long time ago and was "awash" with alcohol - which may have affected witnesses' memories of the night.
Judge Harvey said both sides had been critical of each other's witnesses.
"It is for you to decide whatever you accept or whatever you reject.
"It is open to you to accept some parts of what a witness has said, and reject other parts. You must come to your verdict solely on the evidence that has been put to you in this court," he told jurors.
He instructed them not to let their own personal feelings of prejudice or sympathy towards anyone involved in the case influence their decision.
"Recognise your personal feelings, and then put them aside. Decide the case in a calm and dispassionate fashion."
He told jurors not to be influenced by the fact Ranger had not spoken to police or given evidence in court. That was his right and he was entitled to remain silent. The onus was on the Crown to prove Ranger's guilt - not for Ranger to prove his innocence.
"Nothing negative is to be read into that fact at all," he said.
Judge Harvey told the jury their job was simple - to judge the case based on the facts, and to decide beyond reasonable doubt that Ranger was guilty. If they could not do that, if they had any single doubt at all, they must stop there and acquit him.
He also explained the legalities of self-defence and the use of reasonable force.
Ranger looked nervous but relieved as the jury left court to deliberate. He has been supported by his partner, parents and friends in court this week, as well as Northland rugby players and coaching staff.
By Anna Leask @AnnaLeask

Email

Anna