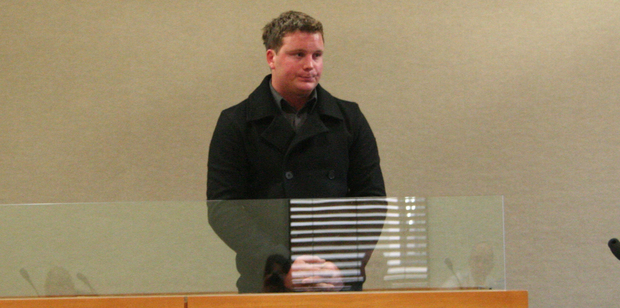 Callum Boe in the dock at the Queenstown District Court as he is sentenced to two years in prison. Picture / Mountain Scene
When Callum Boe helped Ewen Macdonald kill 19 calves with a hammer, he realised his older sidekick was "capable of doing anything".
The "vulnerable" Boe, then 18, feared that if he didn't go along with Macdonald's revenge attacks between 2006 and 2009, he'd be the next target for retribution.
These comments were made by Boe's lawyer, Anne Stevens, in Queenstown District Court last September, when her client was sentenced to two years' jail for arson, theft and intentional damage.
Details of the sentencing were suppressed until last week, but her comments can now be reported.
Last month, Macdonald was found not guilty of the July 2010 killing of his brother-in-law, Scott Guy.
But he has pleaded guilty to other charges he faced jointly with Boe - including killing the calves, destroying 16,000 litres of milk and burning down a historic duck shooters' hut - and is to be sentenced next month.
It was the brutal killings of the 19 calves that brought fear to Boe, Ms Stevens said.
"That incident changed his view of Macdonald. He now saw a callous man capable of doing anything."
Boe was afraid that if he refused to go along with any of the subsequent "missions", Macdonald would make revenge attacks on him or his grandparents, Ms Stevens told Judge Kevin Phillips during her submissions on Boe's behalf.
"He was vulnerable to an older, manipulative man and he behaved in a way that is entirely out of character," she said.
The pair's secret revenge attacks on Manawatu farmers Graham Sexton and Paul Barber came after they were caught poaching deer on the farmers' land. Both were issued with trespass notices.
They decided to retaliate by going to Mr Sexton's milking shed at night and emptying a vat containing the 16,000 litres of milk. They then went to the Barber farm to do the same - but after discovering the milk had been collected, they decided to kill the calves instead.
Three other joint charges made public during Macdonald's murder trial involved shooting two $7500 prize stags and stealing their carcasses, burning down Scott and Kylee Guy's old homestead, which was on removal trailers, and vandalising the new home being built for the Guys.
Boe was orphaned as a child. His father died in a car crash, and his mother died of cancer a few years later. He lived with his paternal grandparents in Feilding for seven years.
Between the ages of 12 and 15, he went to work on the Guy family farm, where Macdonald became a role model to him, establishing common ground through farming and hunting, Ms Stevens told the court.
"At the time of the offending, Mr Boe was a young man and was desperately looking for a father figure. Ewen Macdonald showed him attention, taught him farming skills as well as hunting skills ... [He was] someone who he would like to emulate."
Boe, who is now 23, was freed from prison in June, Ms Stevens told Mountain Scene. She did not know if he was still living in the Queenstown area.