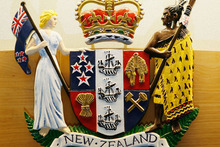 A 68-year-old man has been convicted of repeatedly raping and indecently assaulting a young girl in Rotorua between 1966 and 1976.
A jury in the High Court at Rotorua yesterday found Marama Rameka, 68, a sickness beneficiary of Tauranga, guilty of three charges of indecently assaulting a child under 12 and two charges of rape, all relating to the same complainant. All were representative, meaning the offending happened more than once.
Rameka, formerly of Rotorua, was found not guilty on the sixth charge - an alleged rape in the early 1990s.
The case ran for six days with interpreters mouthing and signing the proceedings to Rameka, who is deaf. The jury, reduced to 11 members early, took just over three hours to reach its verdict.
After the verdict, defence lawyer Jonothan Briscoe requested Rameka be granted bail pending sentencing, however that was denied by Justice Paul Heath.
"A prison sentence is inevitable so, for that reason, bail is refused."
During closing addresses on Friday, Mr Briscoe said Rameka denied the allegations and reminded the jury the onus was on the Crown to prove they were true, not for Rameka to prove his innocence.
However, Rotorua Crown prosecutor Amanda Gordon said the complainant had been compelling and honest during her testimony and that she had no reason to make up the allegations. Two witnesses, school friends of the complainant, had testified she told them about the offending at the time it was happening. Another witness, a child at the time, told how she once saw Rameka assaulting the complainant.
Ms Gordon said the complainant had been let down by society at the time and was left feeling worthless and alone.
Rameka will be sentenced on September 21.
By Katie Holland of The Daily Post