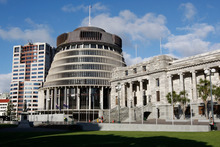 Members of the police Armed Offenders Squad arrested a Reefton man this morning after he allegedly threatened to blow up Parliament.
West Coast area commander John Canning said the man, who was in his 50s, had telephoned Parliament and made the threat.
About 20 police, including armed officers, went to Reefton and apprehended the man without incident on a road near the town about 9am, Mr Canning said. The man was unarmed.
Police also searched two Reefton properties and found no weapons or explosives.
Mr Canning said police took the man to Greymouth, where they interviewed and subsequently arrested him. They charged him with threatening to destroy property.
He would appear before a justice of the peace in the Greymouth District Court tomorrow. Police would oppose bail, Mr Canning said.
By Lee Scanlon of the Westport News