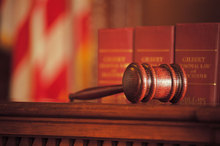 A "career criminal" who hatched an elaborate plan with others to rob a Whangarei tavern and later targeted Asian families in Auckland has been sentenced to eight years in jail.
Andrei Panapa, 32, and two accomplices stole a vehicle parked outside the Kensington Tavern on October 6, 2011, and a day later robbed the Onerahi Tavern of about $3000 in cash after threatening staff and patrons with two firearms and a metal bar.
Panapa was sentenced by Judge John McDonald in the Whangarei District Court on three charges of aggravated robbery, one of theft of a motor vehicle, four of kidnapping and one of escaping from custody.
Judge McDonald said that with 91 previous convictions, Panapa had become a "career criminal" who first appeared in the Youth Court on a series of burglary and shoplifting charges before moving up to the District Court.
"Your criminal career has continued uninterrupted, except for the times you have been in prison," the judge said.
Panapa and his associates had entered the Onerahi Tavern disguised in balaclavas and wearing gloves about midnight, as the staff closed up after hosting a Texas Hold'em poker event. The bar manager was told to open a safe and empty the cash into a plastic rubbish bag.
The stolen car was found burned out in Wrack Rd, Parua Bay, on October 8.
Judge McDonald said the trio later went to Auckland, intending to rob Asians. They booked into a motel and then drove around the North Shore, looking for a suitable house, and came across a property on Pine Hill, where two Asians lived. It was the occupants' first night in their home.
The house was broken into at 1am and about $190 cash, a mobile phone, a laptop, a TV and a gold necklace were stolen after the couple were threatened with a shotgun and a screwdriver.
On October 12, the three followed an Asian from the Sky City casino to his East Tamaki home and entered it, armed with two shotguns and a knife.
All the occupants except a woman and her two children were tied up, and four cellphones, keys, two laptops, necklaces, jewellery, about $2800 in cash, pearl earrings, rings, a bag and running shoes were stolen. One man was forced to the bathroom floor after his hands were tied and a sock shoved in his mouth.
Judge McDonald said it was a home invasion of the worst kind, with threats of the "call the police and I'll shoot you" kind made to a vulnerable family.
The last victims had moved out and were renting and the other victims had put in an expensive security system to avoid being robbed again.
Judge McDonald said Panapa was sent to jail for two-and-a-half years for burglary in 2002 and three years for burglary in 2006.
By Imran Ali of The Northern Advocate