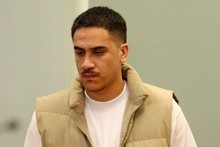 The High Court trial in Auckland of an alleged bag-snatch that ended in murder has adjourned for the night with defence lawyers set to finish summing up today.
Christopher Shadrock, 25, allegedly ran down Jian "Joanne" Wang in a stolen 4WD in the carpark of the Manukau Westfield shopping centre in June 2008 after snatching her handbag.
She died of head injuries in hospital the next day.
In summing up the case yesterday after a five-week trial, Crown prosecutor Kevin Glubb told the jury to look at the bigger picture.
"It was a bag-snatching that just went so horribly wrong," he said. "She didn't stand a chance."
In her handbag was between $2000 and $4000 worth of till takings from the small bakery she owned, he said.
Shadrock's lawyer Chris Wilkinson-Smith told the jury in his summing up that on the morning of the bag-snatching, Shadrock had been drinking pre-mixed bourbon and cola drinks, so his senses were dulled as he was "tipsy".
He argued that although Shadrock went to the carpark that day with the intention of carrying out the "grubby work" of robbing someone it was never his intention to murder anyone.
"In my heart I know I didn't mean to hurt her," he said Shadrock told police during an interview.
The trial has been before nine women and three men since June 11.
- APNZ
By Brendan Manning

Email

Brendan