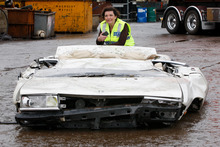 The remains of the first car to be crushed under the Government's new boy-racer legislation will be sold tomorrow in a Trade Me auction.
Bids are up to $420 for the flattened remains of the Nissan Laurel, previously owned by Paraparaumu teenager Daniel Briant.
His car was seized after three driving offences, which included driving while suspended, wheel-spinning and dangerous driving.
The auction is listed under the account of Macaulay Metals in Lower Hutt, the scrap metal company where the car was wrecked last month.
Tongue-in-cheek questions from bidders include "Summer is coming up - does the air con work?" and "Will it have a current rego and WOF?"
One enquired whether Mr Briant was still in the crushed car.
"No, but we hope he supports our move to support a worthwhile charity," answered the scrap metal yard.
The listing has attracted huge interest, with nearly 250 questions posted and 81 bids so far. The auction closes today at 3pm with proceeds being donated to Youthline.
Youthline had been chosen as the preferred charity because the car had come from a young demographic.
The car had a scrap metal value of $150 to $200.
By Isaac Davison @Isaac_Davison

Email

Isaac