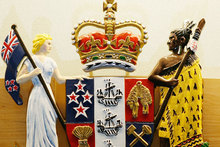 A beneficiary who came to police attention after buying three cars and nearly $30,000 worth of clothing has been given home detention after admitting money laundering around $80,000.
Marisa Rapira-Kiel, 30, pleaded guilty to three counts of money laundering after she came to attention of a Central District police investigation into the manufacture, sale and supply of methamphetamine, known as Operation Stamp.
In July 2010, she purchased a Holden vehicle for $29,000. She also went on to buy two Audi cars for a total of 24,000, registering one in a different name and giving it to her family, and keeping the other.
Between September 21, 2010 and October 26, 2010, she bought $29,516.03 worth of clothing from China, which she intended to on-sell in New Zealand.
All the purchases were made in cash, or by cash deposit. She was a beneficiary at the time.
Rapira-Kiel pleaded guilty to money laundering in August last year.
Her counsel, Peter Brosnahan, said almost everything had been recovered and forfeited to the Crown with her complete co-operation.
It was also clear, notwithstanding thousands of intercepted communications as part of the whole of Operation Stamp, there was nothing whatsoever that implicated her in any drug dealings, or evidence that she had knowledge of them, he said.
She was essentially a first-time offender and had small children to look after.
Crown Prosecutor Esme Killeen suggested Rapira-Kiel should be sentenced to home detention, given her culpability, but also said since the matter had taken such a long time to come to trial, she should be given some discount off her sentence.
Judge Geoff Rae said the case was unusual in that she had pleaded many months ago, but it had taken almost a year to come to sentence.
She'd had the charges hanging over her head, and knowing they carried a starting point of jail, it would have been a difficult year for her, wondering what was going to happen, he said.
Judge Rae said the community would be best served by keeping her as a working part of it, rather than sending her to jail.
He sentenced her to six months' community detention, 150 hours' community work and nine months' supervision.