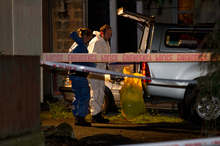 Dean Andrew Clark was training to be a barista, he had a girlfriend and loved working on fixed-gear bikes in his spare time.
But on Tuesday morning the 36-year-old was found dead in his Balmoral home by police and his flatmate, a mental health patient, has been charged with his murder.
The two lived together in a unit on Balmoral Rd. The accused moved in about a week ago but had been asked to move out of the property after Mr Clark complained to their landlord about his "odd behaviour".
The 38-year-old accused, who has interim name suppression, appeared in the Auckland District Court yesterday afternoon and was remanded into the care of the Mason Clinic for a period of 14 days.
The man's elderly mother and another middle aged man were in court to support him. The woman wiped away tears with a handkerchief as she watched her son in the dock.
Outside the court, a spokeswoman for the pair said it was a "really traumatic time" for the family. The man was granted interim name suppression so that close family members could be told of the murder charge. His next court appearance is on July 12.
Meanwhile, Mr Clark's landlord, Finlay Smith, was still trying to come to terms with what had happened. He broke down several times while talking to the Herald yesterday.
Earlier, he told how Mr Clark was training to be a barista. He had been working as an auto painter but due to a problem with his lungs he had to give the job up and was on a benefit.
"He was retraining. He was changing direction," Mr Smith said.
Mr Clark had a girlfriend, who he had been seeing for about eight months.
A team of about 20 officers, forensic and ESR staff were back at Mr Clark's home yesterday, scouring the area for evidence. Yesterday, tributes were posted online for Mr Clark. Ryan Abbott wrote on Facebook about Mr Clark's passion for fixed-gear bikes.
"If there is a heaven you will be doing bunnyhops over the clouds on your custom no gear."
And Madison Eve wrote: "R.I.P Dean ; (you were such a sweet dude and always had the best buds :( you will be missed".
By Nicholas Jones

Email

Nicholas, Anna Leask @AnnaLeask

Email

Anna, Amelia Wade

Email

Amelia