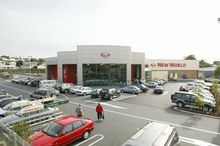 A robber pushed over a shopping trolley with a baby in it so he could steal the mother's wallet outside a Tauranga supermarket.
The woman, who was at Brookfield New World yesterday, returned to her car in the carpark about 11am with her three-month-old son, who was buckled into a car seat attached to the trolley.
"I was just putting my groceries away and then someone, honestly I don't have a good description of them, pushed my trolley over with my three-month-old son," the woman said.
"I was distracted and picked him up and they went through my bag and took my wallet."
The woman, who spoke on condition she was not identified, said she was shocked.
The offender quickly fled.
The woman reported the attack to police and New World staff.
She said she had been asked why she did not get a better look at the thief but her priority was her baby.
"My son was screaming his lungs out," she said.
The baby was unharmed in the fall.
The woman said losing her wallet with everything in it wasn't major compared to her baby's health, but she wanted people to know there were thieves out there.
"I wasn't focusing on anything else but trying to put my groceries and my son in the car when they came," she said.
"I was told while I was there that people had been targeting elderly and disabled people and mothers with babies."
Senior Sergeant Glenn Saunders confirmed police were investigating but he was not aware of any trend involving people being targeted in the area by thieves.
He warned that people needed to take precautions to stay safe.