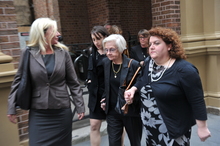 An elderly grandmother managed to draw an initial on the floor to identify the man who had slashed her vocal cords and slit her granddaughter's throat, a Sydney court has heard.
Vivienne Wighton said she tried to get 12-year-old Emma out of the room when her neighbour's son "grabbed my hand, swung me around and started punching me".
"I tried to wave her out, I had a sinking feeling and I lost consciousness," she said in the NSW Supreme Court.
Ms Wighton, who suffered facial fractures, a wounded throat and the cutting of her vocal cord, was found almost dead and could not reply to a policeman's question about the identity of the assailant.
But the then 77-year-old pointed next door and drew an "R" on the floor with her finger.
Renzo Da-Pra, 48, has pleaded not guilty to murdering his father Gino Da-Pra, 77, whose body was found in the boot of a car the day after he disappeared.
Da-Pra has also pleaded not guilty to murdering Emma Wighton, whose throat was almost severed, and causing grievous bodily harm to her grandmother with intent to murder her on November 18, 2009 at Wetherill Park.
The jurors were told the issue would be Da-Pra's mental state at the time of the attacks.
He told psychiatrists a bikie group wanted to kill him and his father and that if he killed his father, he could save his mother.
His barrister, April Francis, told the court the experts said Da-Pra was mentally ill at the relevant time, having symptoms of delusions and persecutory beliefs "consistent with chronic or paranoid schizophrenia".
Crown prosecutor Ken McKay said there was evidence Da-Pra went to his neighbour's house to make it look like a home invasion to divert suspicion from himself in relation to his father's death.
On November 20, 2009, Da-Pra tried to kill himself by setting fire to himself and his car, Mr McKay said.
Ms Wighton told the jury Emma had lived with her since 2000.
On November 18, Ms Wighton answered the front doorbell and saw a man who told her he was Renzo, her neighbour's son.
He told her, "I have broken down a couple of blocks away and I am looking for my father."
Her security screen door was locked but "he wrenched it open" and sidled along against the staircase until he got to the kitchen.
She was "petrified", noting his face was red and he was doing a hand movement like rolling a cigarette, but he had nothing in his hand.
After Da-Pra punched her unconscious she woke up, saw Emma also lying on the ground, and passed out again.
Elsa Da-Pra, mother of the accused, said she became worried when she returned home from shopping on November 18 and her husband had disappeared.
She later discovered a butcher's knife was missing from her kitchen.
The trial is continuing before Justice Robert Shallcross Hulme.
-AAP