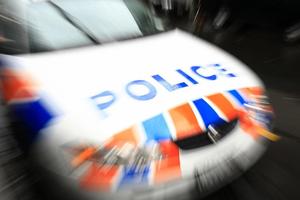 An Auckland man wanted on firearms charges has been arrested after a high-speed chase involving police from Opotiki, Taneatua, Whakatane and Kawerau.
Sergeant Harry Harvey of Whakatane police said the man allegedly took a vehicle from a Gisborne car dealer for a test drive yesterday.
"He stopped to refuel in Matawai just before entering the Waioeka Gorge and allegedly drove off without paying for the fuel," Mr Harvey said.
Opotiki police were alerted, saw the man in the township and followed him. Because of the nature of the charges the suspect had faced in Auckland, police decided to conduct an "armed vehicle stop".
The man was followed from Opotiki to Taneatua, through Waimana Gorge. A person who saw his driving described it as dangerous.
The vehicle appeared to have been spiked before entering the Taneatua township.
"Once in the Taneatua, two police patrol cars have pushed the driver into Hughes Place, a dead-end street," Mr Harvey said.
He said when the car stopped the man ran off through private property into a paddock. He allegedly discarded an object which was later found by police and turned out to be a small plastic pistol.
Police said they found a rifle in the boot of the car.
A local resident described a car speeding around the corner.
"The driver hit a wheelie bin, jumped out of the car and ran through one of the properties," the woman said. "He had a T-shirt wrapped round the bottom half of his face, and was wearing sunglasses and a big jacket."
A 25-year-old man was due to appear in Whakatane District Court today.
For more articles from this region, go to Rotorua Daily Post