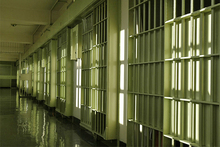 A screaming woman who was being beaten in front of her children was rescued when police smashed through the door of her home, a Hamilton inspector says.
Police said it was understood a couple had been travelling home in a car with their two children last night when the man punched the woman.
Hamilton area commander inspector Rob Lindsay said the alleged assault continued after the couple got back at their Pukete home, leading another occupant to call police at about 2am.
He said officers called to the home looked through a window to see the man hitting the woman several times.
They tried unsuccessfully to get into the house, while hearing the woman screaming for help, he said.
"Fortunately for the victim's sake the officers were able to break the door down and get into the house.
"Confronted by the offender a number of officers were allegedly assaulted before the man was able to be subdued with the use of pepper spray."
Mr Lindsay believes the incident showed the danger of domestic violence to the immediate victim, children and those who try to intervene.
A 29-year-old man was arrested and charged with male assaults female, assaulting police, resisting arrest and assault with intent to injure.
He will appear in Hamilton District Court today.
- Herald Online

By Hayden Donnell

Email

Hayden