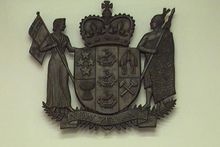 A 20-year-old man has been accused of stabbing another man multiple times with two 30cm-long knives at a Porirua property.
Police said a 21-year-old man suffered injuries to his head, neck, arms and leg when he attacked several times with the knives at a house on Azimuth Place in Whitby about 6.30am on Sunday.
Detective Shane Carter said officers arrived on the scene quickly and prevented the attacker inflicting further injuries.
They pointed a Taser at the accused man, but did not deploy it, Mr Carter said.
"The outcome could have been a lot worse had police not attended when they did."
The victim, who knew his alleged attacker, was taken to hospital for treatment and has since been discharged, police said.
The alleged offender appeared in the Porirua District Court yesterday, charged with wounding with intent to cause grievous bodily harm.
He was remanded on bail until later this month.
- HERALD ONLINE