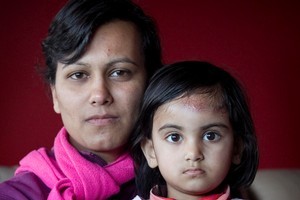 A man who carjacked a woman and her young daughter during a 24km police chase through Auckland was high on methamphetamine and could barely remember it, a court has been told.
Tony Temoananui, 19, was sentenced to two and a half years' imprisonment when he appeared in Auckland District Court this morning.
He previously pleaded guilty to six charges, including robbery, reckless driving causing injury and other driving charges.
The court was told he was on home detention when he stole his sister's car to go to see his ex-partner.
The car smashed through a fence in Clendon, south Auckland, early on September 15.
Police pursued it briefly but abandoned the chase after it turned on to busy Roscommon Rd.
The police Eagle helicopter tracked the car as it entered the Southwestern Motorway, drove "erratically'' around Mangere Bridge, returned to the motorway and exited on Hillsborough Rd.
The vehicle continued to Kinross Rd in Hillsborough and hit a car, forcing it to stop.
Temoananui pulled driver Nikhat Ibnul out and she just managed to get her 2-year-old daughter Zuhaira out of the car before he drove it away then smashed into a ute in Blockhouse Bay.
Judge Emma Aitken told the court Temoananui drove in a manner which "provided some of the worst set of facts that I have seen as a district court judge''.
The court was told he had been under the influence of methamphetamine, and he could barely remember his actions that day.
"You could have killed someone and you could have killed yourself,'' Judge Aitken said.
When imposing the sentence she came to a starting point of four years' imprisonment but this was reduced to two years and six months due to several "very positive factors'' .
She accepted that Temoananui was "deeply sorry'' for his offending, and took into account his youth, his attempts to make amends with his victims and to address his drug problem.
She also gave him the full 25 per cent discount for his early guilty plea.
"I am very impressed with the mental movement that you have made, with the time that you have taken, Mr Temoananui, to think about the harm you caused, the harm you could have caused, and where you want to end up, going forward in your life.''
- APNZ