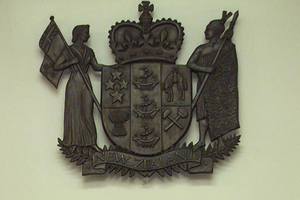 A drunken man who cut his arm while punching in a window in the Elim Church in Greymouth, sprayed blood on the clothes and face of a woman as he tried to wrest a cellphone from her hand when she called the police.
In the Greymouth District Court on Tuesday, Joshua William Kelly, 19, was fined $200 and ordered to pay his victim $200 for emotional harm after he admitted charges of intentionally damaging a window and acting in a manner likely to incite violence.
Police prosecutor sergeant Graeme Eden said Kelly and another man were drunk and obnoxious when they entered the church, uninvited, at 7.40pm on Saturday, April 7.
When they were asked to leave Kelly punched the window and while outside he uttered racial abuse and tried to inflame his associates. When a woman from the church tried to call police, Kelly tried to rip the phone from her hands, splattering her with blood.
Judge Geoff Ellis said he found Kelly's behaviour repugnant.
"I'm not at all impressed with your drunken bravado."