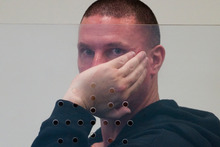 When a South Island woman appeared on TV's Missing Pieces in a bid to find her birth father, she had no idea she would instead attract the interest of New Zealand's "most dangerous stalker".
That man was Glenn Green, 41, also known by the surnames Goldberg, Carlionne, Casellano and Holden, who pleaded guilty in the North Shore District Court last week to two charges of harassment. The most recent charges will take his conviction count to 229.
More than a year after a public and emotional quest to find her father, the woman received a "sick and twisted" letter signed by Glenn Casellano who claimed they had "hooked up" at a nightclub in Christchurch.
The woman, who cannot be named for legal reasons, texted the number he gave her and in the next three days received more than 250 text messages, phone calls, voice messages and another handwritten letter.
The woman said Green pretended to be two different people including a woman named Anne with whom they had mutual friends.
"He was obviously very disturbed and made up things in his head like he was in a relationship with me and that we had hooked up."
When Green appeared in the North Shore District Court on December 9 the police described him as "the most dangerous stalker New Zealand has at the moment".
Green pleaded guilty last week and was remanded in custody for sentencing on June 15.
By Chloe Johnson @BackpackJourno

Email

Chloe