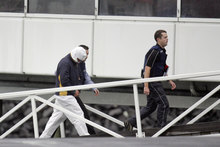 Nathan Boulter dangled his ex-girlfriend from a balcony before hitting her in the head and dragging her over farmland, sparking a 38-hour manhunt.
Boulter pleaded guilty at the High Court in Auckland today to nine charges relating to the beating, kidnapping, and strangling of his ex-girlfriend Nortessa Montgomerie and her new partner early last year.
The guilty pleas have brought relief to the Montgomerie family. Ms Montgomerie's father, Pete, told APNZ he was glad his daughter did not have to now go through a trial.
"But in some ways she was looking forward to it, she was firmly up for it, she's an amazing girl.''
According to the police summary of facts released to APNZ, Boulter was out on bail in January last year after being charged with assaulting Ms Montgomerie while the pair lived together in Southland.
Ms Montgomerie left Boulter and moved back to her family on the remote island of Great Barrier in Auckland's Hauraki Gulf.
But the police summary of facts shows Boulter went to great lengths to catch up with her.
He travelled up to Auckland from Riverton before booking a one-way ferry ticket to Great Barrier Island using the false name Travis Tetoski.
Once on the island Boulter made his way to Ms Montgomerie's family home where she and her new partner, Michael Stewart, were babysitting her seven year-old brother and his friend.
He went into the couple's bedroom and hid under their bed.
The police say later that night the couple came into the room and lay down on the bed before Boulter hit Ms Montgomerie's new partner over the head with a hard object.
He then turned on Ms Montgomerie and hit her before he returned to Mr Stewart and knocked him out. Mr Stewart was left with a fractured skull and bruising to his body.
Ms Montgomerie ran screaming from the bedroom but Boulter caught her by her hair and dangled her over the balcony.
He grabbed a weed grubber and threatened her with the weapon before kidnapping her and dragging her across farmland.
The police were called when Mr Stewart came-to and could not find his girlfriend.
Boulter hid Ms Montgomerie in isolated bush and dragged her around the island to avoid the police manhunt.
"During the ordeal, the victim heard searchers calling her name, however, she was too frightened to answer,'' the police summary said.
Police say she feared for her life. Boulter also told her he had killed her younger brother and the boy's friend.
At one point he took her behind a barn and strangled her. He told her: "You scream for help and you are dead''.
Ms Montgomerie's ordeal lasted 38 hours before searchers found her and Boulter. She was left with a brain bleed from the strangulation and bruises and swelling to her head and body.
Boulter pleaded guilty today to nine charges including kidnapping, wounding with intent, injuring with intent and burglary after a sentence indication from Justice Paul Heath. Other charges remain suppressed.
Crown prosecutor Phil Hamlin told the court that reports from the victims - which will detail how the offending has affected them - will be given to the court at sentencing in June.
Boulter's lawyer Paul Gruar asked that his client undergo a psychiatric report.
Justice Heath noted that no details of Boulter's personal circumstances had been put before the court yet and remanded Boulter in custody.
Mr Montgomerie told APNZ that Boulter had left a "hell of a mess''.
"He's only going to get x amount of years but we've got the rest of our lives to clean up... it's a hard road''
- APNZ
By Edward Gay @edwardgay

Email

Edward