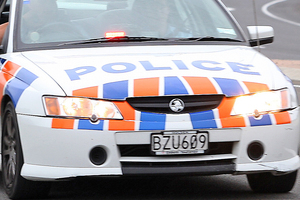 Police are investigating how one of their own cars hit a power pole while chasing a speeding vehicle in North Taranaki last night.
The offending car was spotted breaking the speed limit near Stratford about 8.30pm and pursued briefly by a patrol vehicle before the chase was abandoned.
The car was spotted again about 40km away and pursued by another officer, police spokeswoman Kim Perks said.
The second chase lasted about 40km before the officer lost control and crashed into a power pole, breaking it.
The officer, from New Plymouth, received minor injuries when the airbag went off.
He remained in the vehicle until the power was switched off because of the risk posed by live electricity wires.
Police were yet to find the offending car, a red Subaru Impreza, and asked for anyone with information to contact them.
Ms Perks said the incident was subject to a police investigation, the results of which would probably be known in about two weeks and refused to comment on reports the chase involved speeds of upto 170km/h.
The officer involved had returned to work.
- APNZ