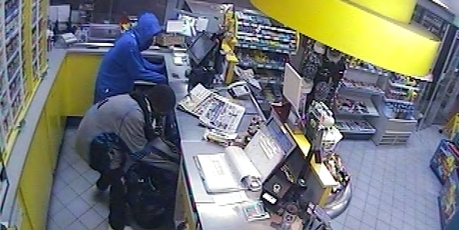 Quick-thinking from a service station attendant led to the arrest of two teenage armed robbers in Hamilton this morning, police say.
Police said three youths approached the attendant, who was behind a pay window at the Caltex Service Station on Avalon Dr, at about 5:10am.
The trio harassed the attendant for a free pie and left after he refused, police said.
Detective Senior Sergeant Karl Thornton said a member of the public told the attendant the trio were acting suspiciously around the side of the store at about 5:25am.
"The attendant rang 111 just as they smashed their way into the store, threatening to kill the attendant with a firearm."
Officers responding to the call arrested a 14-year-old Te Awamutu boy who they found running down the road with a bag full of cigarettes and tobacco and a 16-year-old Hamilton boy who was found nearby, police said.
They did not find the third offender.
Mr Thornton said police were able were quickly able to locate two of the three offenders because the alarm had already been raised.
"His actions and those of the members of the public allowed us to respond in a timely manner and epitomise the saying; 'see something- do something'."
Police investigators would like to speak to the man who raised concerns about the boys acting suspiciously outside the station, Mr Thornton said.
By Hayden Donnell

Email

Hayden