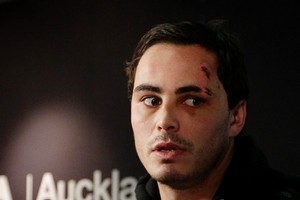 Cook Islands police let themselves down with the decision not to charge the disgraced Zac Guildford, a US police chief who's a regular visitor to Rarotonga says.
Jeff Gunter, of Idaho, said he was "totally disappointed" no criminal action was taken against the All Black.
During his drunken escapade in Rarotonga, Guildford allegedly assaulted two people and sexually harassed triathlete Kelly Pick.
"If this scenario would have occurred where I am in charge of the police department, and I chose to do nothing, I would be sacked, and rightfully so," Mr Gunter said in a letter to the editor of the Cook Islands News.
"Granted, Zac Guildford apologised for hitting two men - good for him - but that doesn't negate the fact he [allegedly] committed crimes."
The Cook Islands police needed to realise they had just "tarnished their image globally, when just a few months ago they were banging their chests about being world leaders in solving crime", Mr Gunter said.
Yesterday, the Cook Islands News was flooded with letters about Guildford and how his drunken antics were handled.
One correspondent said it was time Guildford was left alone and his mistakes forgiven. "Sorry Zac, didn't you know you came to a country where we don't make mistakes? No one has ever gotten drunk and walked around naked in a public place."