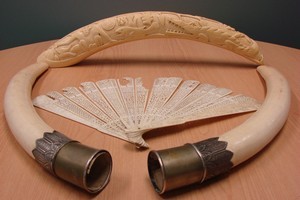 Elephant ivory and a turtle shell are thought to be among 25 items seized by officials in Auckland.
The pieces, which include three carved tusks, six statues and a fan, will be tested to confirm they are made from ivory and hawksbill turtle shell - which come from animals classified as endangered.
A permit to import any specimen of endangered species is required by law.
The seizure was made by the Wildlife Enforcement Group (WEG), the Department of Conservation, Ministry of Agriculture and Forestry and the New Zealand Customs Service.
Two Auckland men are assisting WEG with their enquiries following last night's operation.
The penalties for importing endangered wildlife specimens into New Zealand without a permit are up to five years imprisonment and/or fines of up to $100,000.
At the same time as the Auckland seizure, police and the United Kingdom Border Agency executed a search warrant at an address in Cheltenham in England.
Two men were arrested at a Cheltenham address on suspicion of the banned purchase of two elephant tusks and evading export restrictions.
The operations in Auckland and England follow the interception of two parcels at the Auckland Mail Centre.
Forensic testing confirmed the parcels contained items carved from African elephant tusks, posted from Portugal and England.
One parcel contained a carved ivory tusk and the other a statue of a woman's head carved from ivory.
The parcels were seized as the appropriate permits had not been obtained to import the ivory products into New Zealand.
"African and Asian elephants are at high risk of extinction because poachers continue to kill them for their tusks despite a global ban on trading in ivory," DOC senior investigator and WEG representative Dylan Swain.
The ivory trade ban was imposed in 1989 by the 175 countries that are part of the Convention on International Trade in Endangered Species of Wild Flora and Fauna (Cites).
New Zealand became a party to Cites in 1989.
- APNZ