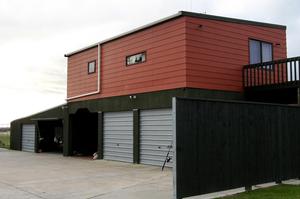 Police have frozen more than $1 million of property, cars and a Harley-Davidson motorcycle belonging to a Mongrel Mob leader under civil forfeiture laws.
Assets owned by Valentine Barclay Nicholas have been restrained under the Criminal Proceeds (Recovery) Act, and are being held by the Official Assignee until the civil court case.
It is believed to be the first case against someone not facing criminal charges.
The 48-year-old known as "Pop" lives in Maketu in the Bay of Plenty and is a leader of the local Mongrel Mob chapter. He was sentenced to five years in prison in the 1980s for manslaughter after fatally stabbing someone in a pub fight.
Weekend Herald inquiries have found that three neighbouring properties in Maketu belonging to Nicholas have been frozen under the law, which came into force in December.
Nine cars and a Harley-Davidson have also been seized until a civil case is heard over whether the Crown can take possession of the assets.
Sheila Payne, 40, is named as a joint respondent in the case, which has been transferred from the High Court at Rotorua to Tauranga.
The Criminal Proceeds (Recovery) Act is seen as a powerful weapon against organised crime, as it does not require police to prove any offence has been committed before taking assets.
Instead, the legislation allows for the proceeds of crime to be forfeited to the Crown based on the balance of probabilities, rather than proving "beyond reasonable doubt" that the assets were profits of crime.
Essentially this places the onus on the owners to prove where they got the assets. Most of the freezing orders sought by the police so far have been after someone has been charged.
But the civil case against Nicholas is the first where no corresponding criminal charges have been laid.
Electoral records show the Mongrel Mob leader lists his occupation as a supervisor.
He last hit the headlines in the 1997 trial of Dean Wickliffe for the murder of Richard Hetaraka Bluett, after Wickliffe wrote to Nicholas asking him to corroborate an alibi.
Nicholas has a criminal history dating back to 1980. Herald archives show he was charged with the murder of Manu Paul in 1983.
He stabbed Paul with a knife outside a Paengaroa pub in a fight that started when Paul yelled at Nicholas, who had made a Mongrel Mob clenched fist salute inside the bar.
Nicholas was acquitted of murder but convicted of manslaughter and sentenced to five years in prison.
Before the Criminal Proceeds (Recovery) Act came into force, police said, they had a "hit list" of underworld kingpins from whom they would seize assets. Police Commissioner Howard Broad said in October that officers could now go after "people who have not worked their entire lives", who were not living off an inheritance yet had substantial wealth.
"This law allows us to say, 'Where did you get that?'
"There are certainly people associated with criminal organisations in New Zealand that we have in mind."
Mr Broad cited the $1 billion-a-year methamphetamine trade, or the $5500 a week it cost a P addict for their habit, as an example of the illegal money flowing through the underworld.
He said the law was needed as organised crime was "a threat to New Zealand's national security", particularly because of the corruption that the large amounts of money it was generating could create.
Deputy Commissioner Rob Pope said in March that $36 million of assets had been identified as being obtained through criminal activity.
Of that, $11 million had been restrained and was under the control of the Official Assignee. A further $9 million is being held by police.
Targets include members of the Killer Beez, Outcasts, Mongrel Mob, Headhunters and Asian crime syndicates.
FROZEN ASSETS
* 9 cars
* 3 waterfront properties in Maketu, Bay of Plenty
* 1 Harley-Davidson motorcycle