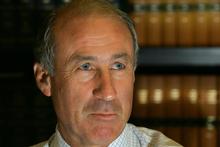 One of the country's top lawyers is under police scrutiny over claims he breached court orders made in the Scott Watson trial.
Police National Headquarters is reviewing alleged breaches of name suppression by Queen's Counsel Paul Davison, who prosecuted Watson for the murders of Olivia Hope and Ben Smart.
The matter was referred to police by the Crown Law Office after Watson's father contacted the Solicitor General.
Chris Watson complained after finding the names of suppressed witnesses on the internet. They were contained in a speech by Davison to the Auckland Medico-Legal Society in 2004.
A copy of the speech, including the names of those with name suppression, was on the society's website until last month. The Herald on Sunday has a copy of the speech.
Davison named four witnesses with name suppression and identified two others by family connection.
The suppression orders were made during the three-month trial that ended with Scott Watson's conviction.
He has never admitted the murders and is the focus of a campaign to have the conviction overturned.
Chris Watson wrote to the Solicitor General stating: "As chief prosecutor of Scott Watson there can be no excuse for being unaware of the suppression orders applying to these people, or as an officer of the court, any excuse for flouting them.
"For over 10 years I have observed these suppression orders out of some residual respect for justice system and for the people concerned.
"It is disconcerting to find that a supposed legal professional with, again supposedly, a greater understanding and respect for the law, has breached these orders with impunity."
A Crown Law Office spokeswoman confirmed the complaint had been referred to Police National Headquarters. She said breaches of suppression orders were for police to investigate as possible criminal offences.
Headquarters spokesman Grant Ogilvie said police received the file a month ago.
It was being assessed before being assigned to an officer for investigation: "Whoever carries out the investigation and its scope will be determined by the findings of that assessment."
Davison said he was unaware his speech was on the website and had asked the society to remove it as soon as he was alerted by the Crown Law Office.
"The form of the address appearing on the website contained reference to certain witnesses whose names had been suppressed for publication by the trial judge," he said.
The inclusion of those names in the copy of the speech on the internet was "inadvertent".
Davison did not respond to questions over whether his verbal speech also included names that were suppressed.
Auckland Medico-Legal Society former president Dr Ian Civil said the speech was taken off the website last month after Davison raised concerns.
"There can't have been any issue that was perceived by Paul Davison at the time he provided that written report for us to publish," he said.
By David Fisher @@DFisherJourno

Email

David