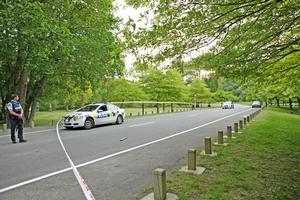 The crime scene in Nelson, showing a baseball bat on the road and a body in the grass to the far right. Photo / Tim Skinner
A dispute between two groups of young people is thought to be behind a fatal shooting in Nelson last night.
Police and the Armed Offenders Squad were called to Maitai Valley Rd, near Branford Park, at about 6pm after a gunshot was heard. They found a man lying dead on the grass beside the road. A baseball bat was lying about 40m away.
The Herald on Sunday understands an elderly woman was walking her dog in the park and came across two groups of young people having "some sort of dispute".
When she saw a gun and baseball bat produced, the woman ran to call police.
"She was quite unravelled," a source said. "There was a car near the body and broken glass nearby. There are wooden bollards along there to stop people driving into the park, and it looks like they've either tried to drive over them or the glass has something to do with the baseball bat."
Another witness is understood to have heard screaming and shouting before the shot.
The dead man is believed to be in his 20s and was wearing dark clothes. He was found lying on grass about 2m off the road. A car was parked near him but it is unclear if it is related to the incident.
The park, about five minutes outside Nelson city centre is said to be a popular gathering spot for boy racers.
Police would not reveal any details of the shooting last night. But a man who went to the cordon said the Armed Offenders Squad had left the scene by about 8pm. "There was one cop with a gun but it was pretty relaxed."
The man said members of the public at the scene were in shock. "People are in disbelief.'.
A woman who lives opposite the park said she head what sounded like a shot or a car backfiring: "Then I heard police cars go past."
Carol Wood, owner of the Maitai Valley Motor Camp, had to call police to get information on the shooting.
"I rang up the police to see what was happening because we've got a lot of campers here. There's one road in and one road out and we wanted to know that there wasn't a shooter still up the road.
"The police rang back and said the road will be open again in 15 to 20 minutes."