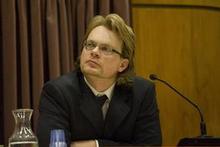 A Christchurch priest who sent an email attacking defence tactics in the recent Clayton Weatherston murder trial was chastised for doing so by the presiding judge.
Parish priest Father Tim Hurd was censured by Justice Judith Potter, the Press reported.
The Christchurch newspaper quoted defence team lawyer Greg King as saying the email was sent to Judith Ablett Kerr QC in the first week of the trial and was later handed to the judge who censured Father Hurd.
He did not say exactly what the judge said.
Mr King said the priest's email was "frankly stunning" and attacked the QC, who led the defence, for what he called her "appalling" defence of Weatherston.
"Your participation in this appalling, abusive defence, accusing the victim of a part in Mr Weatherston's horrendous crime, fills me with disgust," he wrote.
Father Hurd was reported as saying yesterday that his email message was "ill-considered", but he stood by its sentiments.
Ms Ablett Kerr argued that Weatherston, 33, was provoked to kill former girlfriend Sophie Elliott, 22, at her Dunedin home on January 9 last year.
Weatherston was convicted of murder after a five-week trial.
Mr King said Father Hurd's "vitriol" showed a lack of understanding of how the criminal justice system worked.
Last week the New Zealand Law Society's president said directing abuse at Weatherston's lawyer was misplaced and unacceptable.
John Marshall QC said people who directed anger at Ms Ablett Kerr after the trial displayed a fundamental misunderstanding of the lawyer's role.
Ms Ablett Kerr had acid thrown over her car during the Christchurch trial and has reportedly been subject to hate mail and death threats since.
- NZPA